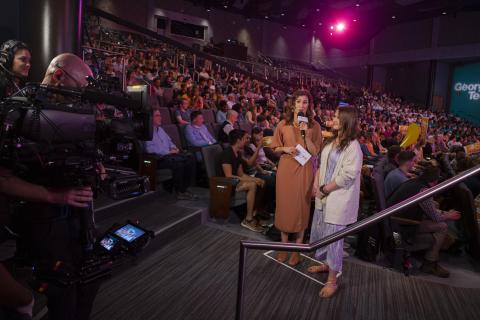 Download image
Mar 01, 2022 — Atlanta, GA
By Frida Carrera
After almost a year of preparation, practice, and refinement, Georgia Tech's annual InVenture Prize is down to six finalists competing in the final round on March 16th. In this televised round, the final teams will pitch their inventions to a panel of judges and compete for the top prize of $20,000, assistance in patent-filing, and a spot in CREATE-X's Startup Launch program.
In its 14th year, the InVenture Prize competition features different innovations created by Georgia Tech students from all disciplines and backgrounds. For months prior to the final round, the finalists received coaching and assistance from mentors and coaches on building their prototypes, developing business models, and rehearsing their pitches to investors. The final six teams were chosen from previous preliminary and semifinal rounds that included a broad range of competitors. 
The finals of the InVenture Prize will air live from Georgia Tech's Ferst Center for the Arts at 7:30 p.m. on March 16th on Georgia Public Broadcasting. 
The 2022 finalist teams are:
The Foambuster: The Foambuster is a unique handheld tool that allows construction contractors to drastically cut down on the mess, hassle, and money spent that comes with installing exterior insulation.
Edward Diller, Mechanical Engineering, Los Angeles, CA
Davis Waln, Mechanical Engineering, Atlanta, GA
Christophe Senghor, Mechanical Engineering, Peachtree City, GA
Katelyn Sand, Mechanical Engineering, Westlake Village, CA
Jaime Paris Meseguer, Mechanical Engineering, Spain
Magic Crop: An application that uses the power of Artificial Intelligence and the rule of thirds to format any number of inputted pictures into the perfect headshot within seconds and without ever sending any images to the cloud or to a third-party server.
Megan Dass, Computer Science, Woodbridge, VA
Reflex: Emergency Medical Drone Response System to deliver life-saving medical equipment.
Nevin Gilbert, Computer Science, Boulder, CO
Usman Jamal, Computer Science, Tucker, GA
Sola: Sola provides a data-driven supplemental insurance plan which covers immediate out-of-pocket expenses for US homeowners following losses from tornadoes.
Brayden Drury, Mechanical Engineering, Park City, Utah
Wesley Pergament, Mechanical Engineering, Old Westbury, NY
StrideLink: Accessible gait analysis wearable for remote monitoring of walking asymmetry.
Marzeah (Zea) Khorramabadi, Computer Engineering, Birmingham, AL
Cassandra (Cassie) McIltrot, Biomedical Engineering, Sykesville, MD
Neel Narvekar, Computer Engineering, Arcadia, CA
Tony Wineman, Electrical Engineering, Woodstock, GA
Tabnam: AI-powered shopping assistant that leverages the knowledge of user experience data.
SooHoon Choi, Computer Science, South Korea
Daksh Gupta, Computer Science, Noida, India
Robert (Davis) Liddell, Computer Science, Lutherville, MD
Ethan Perry, Computer Science, Wellesley, MA
To request tickets for the event visit: https://inventureprize.gatech.edu/form/inventure-prize-ticket-request-f
To learn more about InVenture Prize visit: https://inventureprize.gatech.edu/